The Latest Trends in Quartz Countertops
Is it granite? Is it marble? It's definitely stunning, but what is the trend that has taken over both 2017 and 2018 kitchens and bathrooms? It's a quartz countertop. This month we'll discuss the latest trends in quartz countertops.
This manufactured material can be made to look like its other kitchen countertop cousins granite and marble), but it can also be made into just about any color and pattern that you could dream of! Thanks to some serious advances in technology, one of the many reasons that quartz countertops reign supreme is because of the versatile styles that can be produced.
Quartz is also incredibly durable and resilient, so forget chips and cracks. But perhaps one of the biggest advantages of quartz for families is its nonporous surface. This feature makes it not only resistant to stains (Don't cry over spilled milk…or coffee! Just pour yourself another glass and grab some paper towels to wipe up the mess.), but it also won't be a home for bacteria or viruses. You can rest assured that when you clean down your kitchen after a particularly fun round of cookie-making or wipe up your bathroom after giving the dog a bath, you've successfully gotten rid of any and all mess.
So what about the trends in quartz countertops? How have people been using this unique material to transform their kitchens and bathrooms?
Waterfall Countertops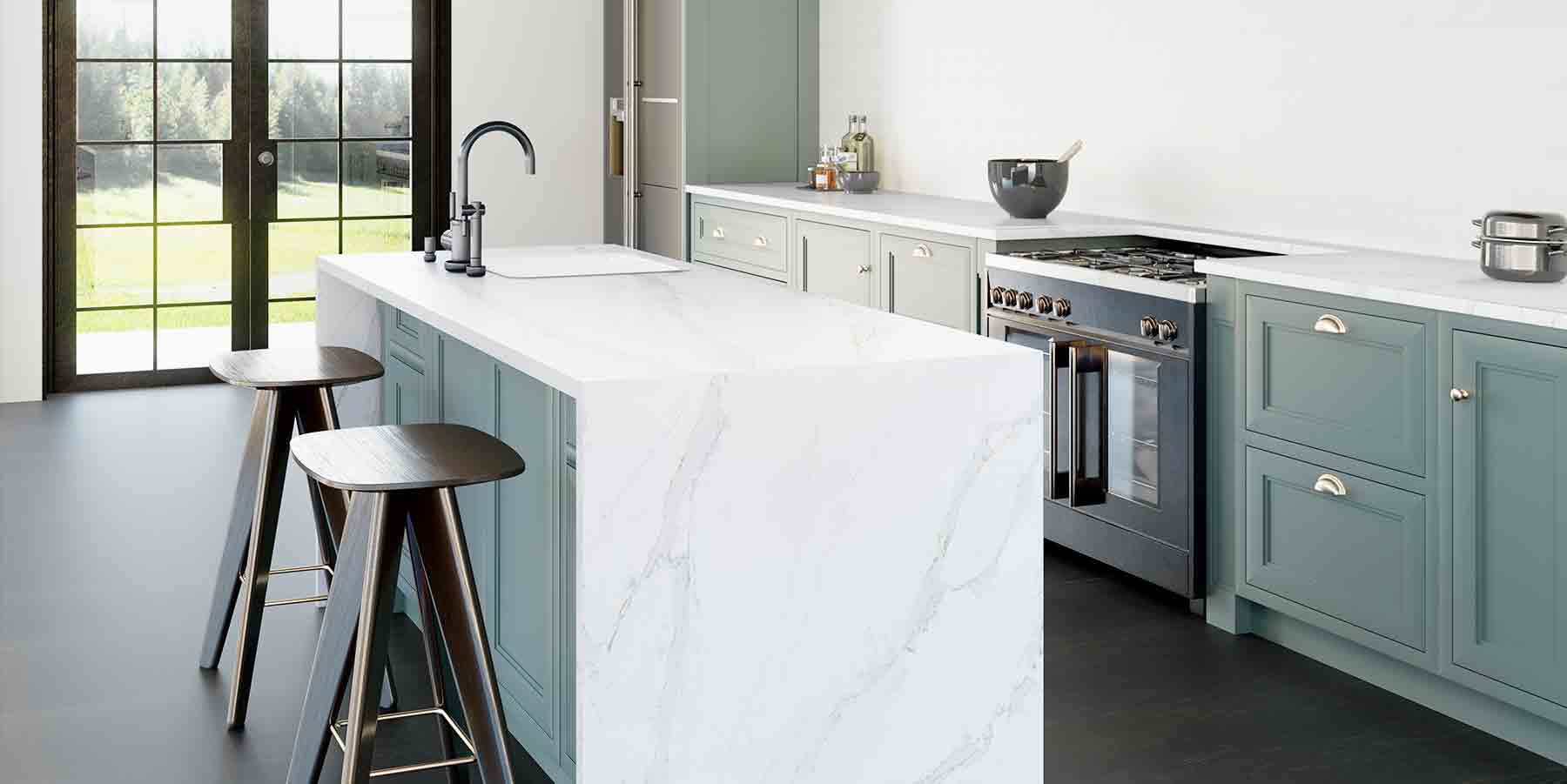 Much like the name suggests, this trend produces a waterfall effect over the sides of the counter. Think of an island but without a cabinet siding. In more technical terms "The surface material extends to cover the sides as well." This style works best in a more modern kitchen. Home Edit describes this trend as establishing "visual continuity between the floor and the worktop." The clean look not only protects cabinets and hides appliances from sight but is also simply eye-catching.
If you're considering a waterfall look, think about the thickness that you'll want. For a more dramatic look, go for a higher thickness (more than the standard countertop edge).
They don't always have to be on islands either. These waterfalls can finish off one edge of a counter that may butt up against the fridge. They can even be a kitchen table!
Marbled Quartz
As we mentioned above, one of the great things about quartz is its ability to be manufactured to look just like marble, so you reap all the benefits of quartz as a nonporous, man-made material, but you get the soft colorations and marbled vein pattern of a natural stone.  (See photo for Waterfall Legs)
White Quartz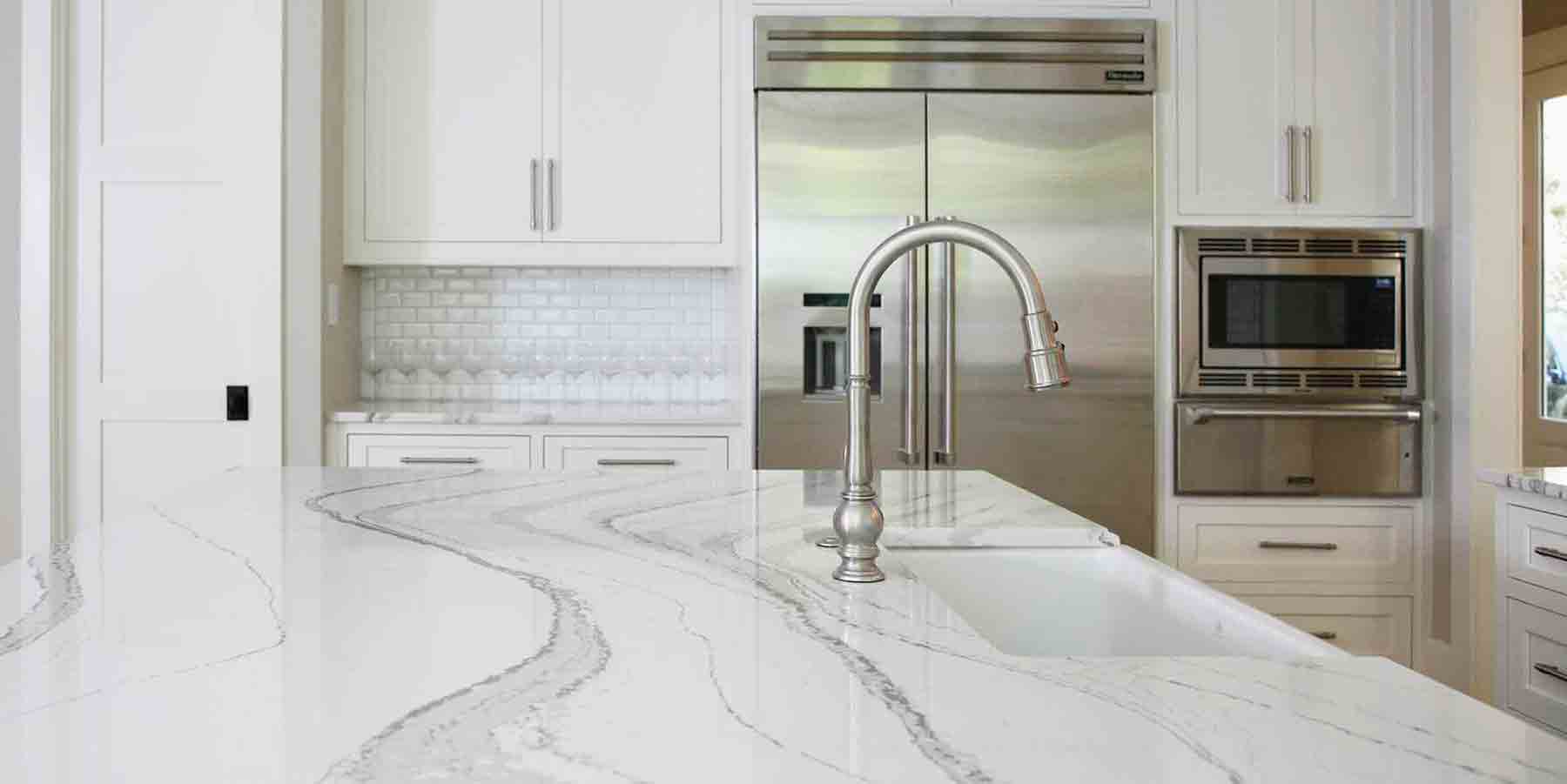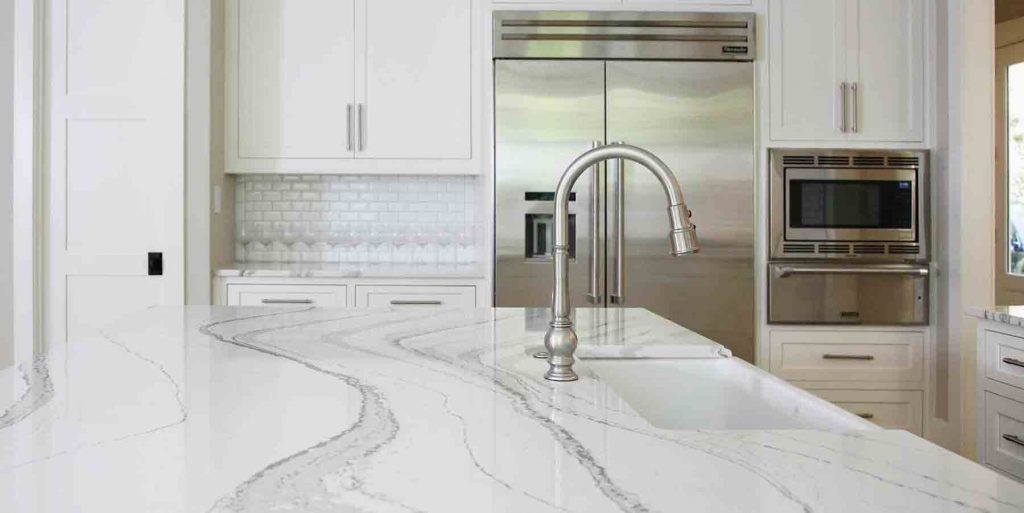 Lastly, another really popular trend is extreme color-contrasting between the countertops and cabinets used in both kitchens and bathrooms. The preferred quartz color is a variation of white, contrasted with an ebony (or other dark colors) cabinetry.
The low-maintenance of quartz combined with its array of design options make it a win-win for every-and-all styles. From the modern to the farmhouse to everything in between, there is definitely a quartz color and pattern for you and your kitchen or bathroom!
Getting Started
Are you building a new house or renovating your kitchen and want to learn more about your quartz countertop options? MultiStone has a wide number of styles and our stone experts can help design and install the perfect countertop for your kitchen or bathroom.